We install fencing in Kansas City all year, Summer, Fall, Winter & Spring.
You have a broad selection of fencing to choose from – cedar, split-rail, pressure treated, hidden fence and much more.
A well-erected chain fence is more than just a boundary; it can increase the attraction of your property.
Our vinyl fence styles are formulated with a UV inhibitor for outdoor toughness and color hold.
We offer a beautiful selection of wrought iron fencing and that is maintenance free and has a 20 year warranty.
From pools to animal fencing, we can transform your space into a safe and secure environment.
Good Fences Make Good Neighbors
Fence Company in KC. A sturdy and well-built fence is great for the value of your property. At Perfect Fence Company a quality product and a happy customer is our team's main goal.
Also with our expert staff's knowledge in the industry, you can count on your fence being built strong and straight. Give us a call at (816)536-3432, Perfect Fence Company—your first choice for a fencing in Kansas City.
If you have fencing that needs removed we are neat and clean. Our goal is to get the new fence posts set in concrete on the same day. We get right back at it the next day and construct the rest of the fence and hang the gates. We install red cedar wood, high quality american made powder coated steel, maintenance free white vinyl, galvanized and coated chain link fence. By hiring Perfect Fence, you'll know that your project was installed by a well established fence contractor. We are experts who know fencing through and through, because that's all we do. We don't sell fencing supplies, we don't have a huge storefront—we install fences, on time, and on budget—guaranteed. Just take a look at our reviews. Perfect Fence Company is a great choice for fence installation in Kansas City.
Fence Company Kansas City
Perfect Fence Company has installed a lot of privacy fences in Kansas City. Also if you live in suburbs or in the city, the privacy of your property is probably a concern. Over time we have established ourselves as one of the leading privacy fence installers in the Kansas City metro area. People who live in the city have a lot more interest in privacy fence than a lot of people realize, due to their houses some times only being 10 feet apart. While it's great living in an urban area, at times the lack of privacy is not.
That will be a short-lived problem with a call to Perfect Fence Company. We complete projects of all kinds for many custom and unique customer needs. We will give you a free estimate and we will gladly go over any estimate you may already have received from another outfit. After we get together about your needs and give you a free estimate we are confident we will be your choice for your fence services. We go above and beyond for our clients.
Save

Give your home or business the stylish look it deserves with custom fencing from Perfect Fence. Call
816-536-3432
to discuss your fence options.

Grow your investment in property around the Kansas City area with affordable, new fences. Get a 
FREE

Estimate
and schedule your fence installation today!

Protect your commercial, residential, or industrial property by erecting a durable, new fence. Choose from chain link, iron, wood, and more. Enjoy the protection of a warranty too!
Deciding The Right Fence For You
There are many deciding factors that play a role in picking the right fence for you. We can help answer all of your questions.
Do you need privacy?
We offer many tall fencing options.
Is your dog safe from traffic?
Keep your furry friends safe and out of harms ways
Do you have a safe place for your children to play?
A sturdy fence can make all the difference in the world.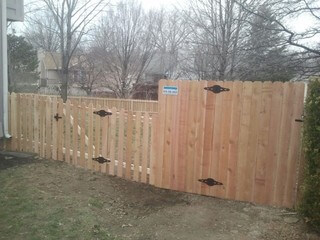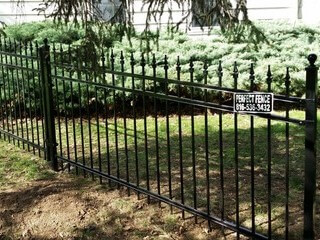 Ready To Learn More About Your Fencing Options?