Premium Fasteners–From Your Fencing Contractor Kansas City
Premium Fasteners—What's the Difference?
A nail is a nail is a nail, right? Not even close.  Your fencing contractor in Kansas City knows the difference.

Perfect Fence Company only uses premium fasteners because put simply, there's a huge difference in quality. While fasteners are buried in wood, for example, one wouldn't think they would be subject to Mother Nature's sometimes brutal conditions. Wood retains moisture, which will corrode and destroy other inferior fasteners. By making a very small investment in better materials, you'll most likely add years to your fence, deck, or other project.
While being rust and corrosion resistent, choosing non magnetic fasteners is key, because magnetic nails react with other nearby metals. Drilling a pilot hole is often required, particularly when working with fencing materials—this will help keep the wood from splitting. In fact, hot dipped galvanized fasteners are some of the best in the business. They are more of an investment, but the difference is clear. How it works is that the fasteners are bathed in molten zinc, completely coating them. Hot dipped galvanized fasteners are available with varying levels of thickness, but they are superior and very effective.
Have questions? Perfect Fence Company has answers. Call us at 816.536.3432 today for a free quote from your number one fencing contractor in Kansas City.
Choosing Beautiful Western Cedar from Your Fencing Contractor
Choosing Beautiful Western Cedar from Your Fencing Contractor
At Perfect Fence Company, we use Western Red Cedar. Known for thousands of years for it's durability, strength, and natural resistance to decay, red cedar is a natural choice that will keep your property stunning for decades. Red cedar is commonly used for sail boats, kayaks, and of course, siding, fencing, and decks, gazebos, sheds, doors—the list goes on.
Red cedar, most often, is reddish to pinkish brown, with grain variance, which is straight with a coarse to medium feel. Additionally, it's commonly known for it's durability to rot resistance. Widely considered to be easy to work with, it is a softer wood that can be modified with either hand or machine tools. At Perfect Fence Company, we only use circular saws, never chainsaws, which adds the sharp, finished look we guarantee.
As your fencing contractor, we often point homeowners in the right direction with the use of red cedar. As your Kansas City fencing contractor of choice, we have many options for our customers. Whether you need vinyl, metal, or traditional wood fencing, Perfect Fence Company can help. Call us today at 816.536.3432 for a free written estimate.
Your Number One Fencing Contractor Kansas City
Fencing is One of the Best Investments You Can Make
Fencing is one of the single greatest investments you can make to improve your properties' value, other than your kitchen and bathrooms. Landscaping is also wise, but fencing really completes your home. Here are a few reasons why this is so.
First and foremost, if you own property in the country or a rural setting, fencing completes the look, so to speak. You've invested thousands, if not hundreds of thousands of dollars on your real estate investment—doesn't it make sense to fully complete it? Additionally, by hiring professional fencing contractor Perfect Fence Company, you'll be assured that your project will be done by a competent fencing contractor kansas city, reliable experts who know fencing, because that's all we do. We don't sell fencing supplies, we don't have a huge storefront—we install fencing, professionally, on time, and on budget—guaranteed.  Perfect Fence Company is your choice of fencing contractor kansas city.

If you live in town or in the city, privacy is probably a concern. Perfect Fence Company is the authoritative expert on privacy fence in Kansas City. In fact, we've been Kansas City's number one fence contractor for over 15 years. Privacy fence is an utmost concern to many city dwellers. While it's great to have the convenience of living in an urban area, at times the lack of privacy is not.
No problem. At Perfect Fence Company, we complete projects of all kinds for many different customers. Whether it's chain link fence, privacy fence, farm and ranch fence, or any other type or kind you're looking for, your fencing contractor Kansas City can help. With a free written estimate, we will gladly go over any estimate you may have. We love competition.  Because you have a choice in fencing contractor Kansas City–and that choice should be Perfect Fence Company.

Many Farmers and Ranchers request information from us. They own valuable assets, crucial to the American consumer—food. Farmers and Ranchers, or Producers for short, often contact us for work on their properties on a varying array of projects. Whether you have horses, hogs, or any other animal, we can keep them corralled. Give us a ring at 816.536.3432, Perfect Fence Company—your first and foremost fencing contractor in Kansas City.
The Two Most Important Things to Consider When Hiring Any Fencing Contractor
The Two Most Important Things to Consider when Hiring a Fencing Contractor
Hiring any fencing contractor involves time and effort. You have to search online, find reviews, talk to previous customers….and it can be exhausting. Fortunately, you've come to the right place. Perfect Fence Company has compiled these blog articles to help keep our current, previous, and future customers informed. We want one thing from our customers—utmost satisfaction.  We also want you to brag about us to your friends.

A major point of consideration our future customers should consider before they hire anyone should be a complete understanding of the written estimate. For the unscrupulous contractor, a written estimate is an opportunity to confuse and trick the potential client. We love hearing these stories and welcome them. If you have an estimate, or even if another fencing contractor has already begun work on your project and you're unsure about them—give us a call. We are more than happy to go over our competitors' written estimate with you and explain everything. Why? Because at Perfect Fence Company, reputation is everything, and we love competition.
Another point we'd like to share for future customers is to research materials. Wood, vinyl, metals—they all can be used for fencing. Of course, prices vary, as do different materials vary according to what you might be looking for in regards to hot/cold temperament, strength, etc. See our other articles for more information about these different materials and what they can be used for.
Perfect Fence Company is 100% locally owned and operated, and is your number one fencing contractor proudly serving the Kansas City area. We always provide free, written estimates and live by honesty, integrity, and honor. Hire the best—Perfect Fence Company. Call us today at 816.536.3432 for a free consultation. We guarantee all of our work and your complete satisfaction.
Top 3 Fencing Myths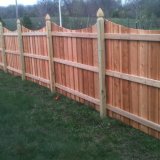 Top 3 Myths About Fencing
This post is all about myths with fencing—whether you've heard the standard "it's too expensive" or "we'll do it next year", fencing is an investment in your property that may be worth considering sooner than later. Here's why.
Fencing for your property adds a certain beauty that's hard to quantify. Fencing is solid, functional, and pleasing to the eye. Perfect Fence Company has a wide variety of fencing options for you to consider, and as always, we fully guarantee you'll love whatever you choose. Of course, be sure to choose a fencing contractor that is competent, qualified, and professional.
Fencing is probably not as expensive as you might think. There are many variables that factor into a final price for your fence. We can work within your budget, and we always provide free written estimates.
3) Time—a common misconception is that this type of work takes to much time. Fact is, nothing could be further from the truth. At Perfect Fence Company, we complete work quickly, efficiently, and with excellence. As Kansas City's number 1 fencing contractor, you can be assured that we go the extra mile for each and every one of our customers.
Price vs "True Price"–How to Properly Read an Estimate from your Potential Fencing Contractor
Price vs "True Price"–How to Properly Read an Estimate from your Potential Fencing Contractor
When considering fencing (or if you've already received an estimate from a fencing contractor), as with most things in life, usually price is a factor. Perfect Fence Company, as your Kansas City Fencing Contractor of Choice for over 15 years, is well versed in writing estimates, and we would never consider anything other than honesty and integrity when doing so. In fact, if you have a bid—even from one of our competitors—we would be more than happy to write our own bid, but also explain any other bid you may have. That's what we do.
Unfortunately, some fencing contractors don't have the best reputation. Fortunately, many do. In business, as with life, we believe that reputation is everything. And at Perfect Fence Company, we protect and preserve our reputation each and everyday—just ask any of our many very satisfied customers.
The number one thing you can do as a consumer is to insist of specifics on the bid. A common practice with some unscrupulous contractors is to use sub-par fixtures but charge for premium ones. With fencing, make sure that you're paying for finish carpentry—not rough that could pass for finish to the untrained eye. Make sure you're getting premium fasteners—not standard. Don't make these same, avoidable mistakes when it comes to hiring your fencing contractor. In sum, make sure you're getting everything you're paying for. While the lowest bid may seem like you won the lottery, it's the intangibles (making sure the job is done right, the first time, on time, and that you're happy with the results) that factor into the end "price". Price can be deceptive—by calling Perfect Fence Company, rest assured you'll get what you pay for.
Call Perfect Fence Company at 816.536.3432 to receive a free, written estimate. Perfect Fence Company is KC's final word on fencing, and has proudly served the area for over 15 years.
Asthetics vs Price–Fencing Options to Consider
Aesthetics vs Price:  Fencing Options for Your Property, and Other Factors to Consider
When considering fencing options, you're limited only by your creativity. Wood, vinyl, aluminum…how to choose? Let Perfect Fence Company help you with that–especially since we're Kansas City's #1 Fencing Contractor.


Traditional wood fencing is usually the "go-to" choice for either do-it-yourself'ers or those who want a professional job. Wood is a natural, beautiful choice, is cost efficient, and always looks great—whether stained, painted, or natural. With wood however, it's the small things that make the difference. For example, at Perfect Fence Company, we only use circular saws, never chainsaws, to make cuts. And these extra steps we take each and every time really count with the finest results.  As fencing contractors, we know the difference between good and great.

Another option for fencing material is vinyl. With a vast array of colors and styles, this material is only growing in popularity. Vinyl as a choice for fencing may sound unconventional, but the durability and price really make it a viable option for many homeowners looking to add value to their property.  Call Perfect Fence Company for a free quote.

Finally, and we know this may sound unique, but various sheet metals are being used for fencing due to increased popularity of modern architecture. Additionally, the durability of metal, especially in areas of the country that are subject to high winds and/or extreme hot or cold, make metal an option to consider when hiring a fencing contractor. Metal is also popular with homeowners who choose a mid century modern motif in their decorating.
All kinds of different metals are available, with varying color, texture, and even powder coating options available. As with wood, choosing metal as fencing option ensures a beautiful result, no matter what material you select.
Need a quote? Call us at 816.536.3432. Perfect Fence Company is Kansas City's #1 Fencing Contractor.
Don't Hire Any Fencing Contractor Until You Read These 3 Tips
Don't Hire Any Fencing Contractor Until You Read These 3 Tips
Depending on your needs, professionally installed fencing offers a beautiful aesthetic that is tough to beat. In addition to enhancing your properties' value, we believe (and many of our clients as well) that fencing "completes the picture" so to speak—a picturesque property awaits you.  If you've ever seen a Norman Rockwell painting, you know what we're talking about.  At Perfect Fencing Company, we produce one result, and one result only–excellence.  We absolutely guarantee not only your satisfaction, but your delight.  See our Testimonials page for other very satisfied customers.

At Perfect Fence Company, we have a few tips for our potential clients before you make your hiring decision.  An investment of this significance is well worth researching thoroughly.

First, ask for referrals and/or testimonials. When previous customers are happy, chances are that you will be as well.Conduct a simple google.com search for the company name in quotes, such as "perfect fence company kansas city" to get several hits from various websites about the company.
Second, look at the written estimate carefully. Check out the materials used, how your fence will be constructed exactly, timeframe, etc. And always remember—the lowest bid probably isn't your best bet. The truism "you get what you pay for" certainly applies to fencing as well.
Finally, professional demeanor is something we take pride in here at Perfect Fence Company. Ask anyone who gives you a bid about courtesy, clean up, and protection of non-fencing areas. These factors always play a role in customer satisfaction, and should be a consideration for anyone taking bids for fencing contractors.
Need an estimate? Give us a call at 816.536.3432
All Fencing Contractors are NOT the Same–and Here's Why
All Fencing Contractors are NOT the Same—Here's Why
Fencing contractors vary between quality and price; everyone knows that. But what most consumers don't necessarily know is the quality details—the little differences—that make your project shine when completed. Read on to discover the Perfect Fence Company difference.
Post construction is a clearly a crucial component of your project. That's why we only use circular saws on our wood—never chainsaws, which makes a monumental difference in quality, and it shows.
At Perfect Fence, we also only use premium fasteners and screw all gate frames. While this is a bit of shop talk—what it means to the customer is that we know what we're doing, and we do it right the first time—guaranteed. It's just that simple.
In Kansas City, we know you have many choices when it comes to fencing contractors, and we'd love to show you our difference. In fact, on all projects, we guarantee all work and some materials are guaranteed for up to 20 years on paper. That's how we do business.
Give us a call today for a free, written estimate. Call 816.536.3432.